Shopping Cart
Your Cart is Empty
There was an error with PayPal
Click here to try again
Thank you for your business!
You should be receiving an order confirmation from Paypal shortly.
Exit Shopping Cart
Black Indians United Legal Defense and Education Fund
1866 Treaties-Ethnic (Black) Indians and Freedmen
Long Hidden History Revealed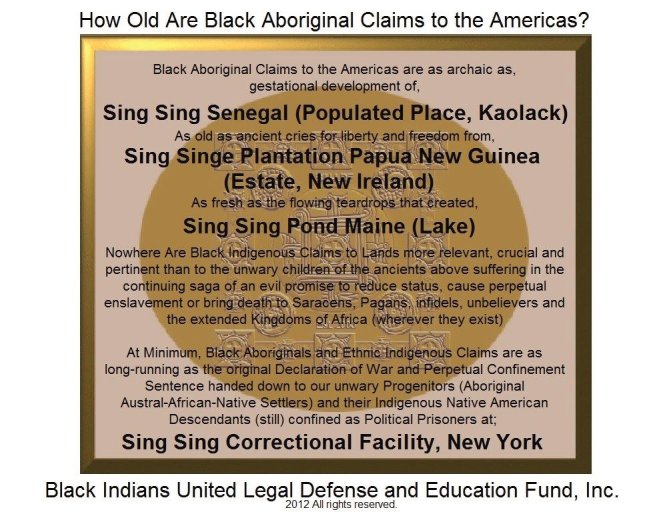 .
Halito Sai Iska!
Learning Black Aboriginal, Indigenous and Native American History is Fundamental and key to changing the paradigm.
Sing Sing Correctional Facility, New York set the standard for the erection of Attica, which was built in the 1930s. Sing Sing, a Maximum Security Facility operated by the New York State Department of Corrections and Community Supervision in the town of Ossining, New York, located about 30 miles north of New York City on the east bank of the Hudson River. Modern Sing Sing began confinements in 1825 (with recorded history beginning in 1826. The official completion date of early modern construction is set at 1828. 
Euro-historians (even Wikipedia) contends that the Prison's name "Sing Sing" was derived from the name of a "NATIVE AMERICAN NATION", whom they attribute to a group known as "Sinck Sinck" (or "Sint Sinck") from whom the land was allegedly "purchased" in 1685.
Condensed History Notes
The Dutch claimed early possession of the area we now know to be New York, which the Dutch called "New Netherlands". In 1664, Charles II King of England disregarding all other claims, made a grant, to his brother James, then Duke of York to the whole territory from the Connecticut river to the Delaware River, including therefore, besides a part of Connecticut, New York, New Jersey, and Delaware.
To remove controversy respecting the sketchy title to the lands granted to him while they were in the possession of the Dutch, the Duke of York took out a new patent, and appointed Sir Edmund Andros governor, who entered upon his position in 1674, but his administration was not well liked.
In 1682, an important change took place affecting the respective "Territories," as the present state of Delaware was then called--namely a transfer of them, by the Duke of York to William Penn (a move that undermined Andros to the extreme) from which time, until the American Revolution, Delaware (Connecticut, New York and New Jersey) remained attached to Pennsylvania, or were under her jurisdiction.
In 1683, (2 years before the start of mass inprisonments of Natives at Sing Sing), Andros returned to England and bore witness to the appointment of Thomas Dongan (a Roman Catholic) to the position of Governor. Dongan arrived in 1883 with instructions to call an assembly consisting of a council of ten, and of eighteen elected representatives. By this time the Duke of York ascended to the throne, under the Title of James II, he refused to confirm to the people privileges granted to them while he was Duke. No assembly by Dongan was permitted to be convened, printing presses were prohibited (so news could not get out) and "the more important provincial offices were conferred on Catholics."
Official Sing Sing history claims that the Correctional Facility's lands were honestly "purchased" from Natives during a period in time when Europeans were not dealing honestly with each other, undermining authority, operating in open treachery, all the while wholly disrespecting rights, entitlements and holdings belonging to others.
So, what have we learned thus far? Sing Sing's actual history began in 1685, precisely 91 years before the 1776 American Revolutionary War and became breakaway Colonies free from British rule.
Today, Sing Sing Prison confines about 1,700 Prisoners and "there are plans to convert the original 1825 cell block into a museum."
Black Aboriginal Settlement
A powerful case can be made for Black aboriginal settlement of the Americas from Egypt, Ethiopia, Africa, Middle Eastern Regions, the Mediterranean, Australia, Solomon Islands and other Melanesian places in an archaic era (perhaps many different eras).
An equally spirited argument might also reflect that a mass exodus or exile of European Blacks here in the hinterlands (Netherlands) of the Americas caused them to settle here, perhaps a thousand years or more before the arrival of Black Ladinos or Trans-Atlantic Slaves, each of whom are still related to Black Indians of the Americas because a goodly number of Black Aboriginals were enslaved alongside Trans-Atlantic Captives, all of whom are uniquely Native and Indigenous to the Americas due to their birth upon this landmass (and none other).
The following African Settlement Names share unique similarities to that of Aboriginal Ossining New York (Populated Place);
*Ossing Cameroon (Populated Place, Cameroon)
*Ossinga Gabon (Populated Place, Haut-Ogooue)
*Ossingdo Congo (Populated Place, Cuvette)
Sing Sing Creek New York (Stream)
Sing Singe Plantation Papua New Guinea (Estate, New Ireland)
Singe Singe Plantation Papua New Guinea (Estate, New Ireland)
Singeiapa Papua New Guinea (Populated Place, Morobe)

Sing Cameroon (Populated Place, Cameroon)
Sing Central African Republic (Stream, Central African Republic)
Sing Chad (Stream, Logone Occidental)
Sing Ghana (Populated Place, Ghana)
Sing Mozambique (Stream, Niassa) 
Sing Peak California (Summit)
Sing Windmill Texas (Locale)

Singeak Alaska (Locale)
Singeakpuk River Alaska (Stream)
Singe Creek Oregon (Stream)
Singecat Branch North Carolina (Stream)
Singecat Ridge North Carolina (Ridge)
Singepole Mountain Maine (Summit)
Singe Central African Republic (Stream, Central African Republic)
Singe Chad (Populated Place, Guera)
Singe Congo (Stream, Lekoumou)
Singe Zambia (Stream, Luapula
Singebe Zambia (Populated Place, Western)
Singe Island Mauritius (Island, Grand Port)
Singe Swamp Tanzania (Marsh, Tanzania)
Singeir Sudan (Hill, (SU30)
Singeir Sudan (Populated Place, (SU34))
Singeir Sudan (Well, (SU30))
Singeiwa Sudan (Populated Place, (SU33)
Singeko Sierra Leone (Populated Place, Eastern)
Singele Cameroon (Stream, Cameroon)
Singelele South Africa (Farm, Northern Province)
Singema Sierra Leone (Populated Place, Eastern)
Singemba Zambia (Populated Place, North-Western)
Singeni South Africa (Populated Place, Eastern Cape)
Singe India (Populated Place, West Bengal)
Singer India (Triangulation Station, Jammu and Kashmir)
Singer Dagi Turkey (Pop. Place, Bitlis)
Singer Mountain Turkey (Mountain, Bitlis)
*Bitlik Island Papua New Guinea (Island, New Ireland)
Special Case:
Bitli Turkey (Populated Place, Mus)
*Mus Der Ethiopia (Populated Place, (ET07)
*Mus Anchorage India (Anchorage, India)
*Mus India (Populated Place, Andaman and Nicobar Island)-Black Indians
*Mus France (populated Place, Languedoc-Roussillon) -Langue
*Langue Chad (Populated Place, Tandjile)
*Langue Mozambique (Populated Place, Inhambane)
*Langue Mozambique (Stream, Tete)
*Langue de Barbarie Mauritania (Spit, Mauritania)
*Langue de Barbarie Senegal (Spit, Senegal)
*Langue Haiti (Populated Plae, Artibonite)
*Langue Honduras (Populated Place, Valle)
*Languedoc South Africa (Farm, Northern Province
*Languedoc South Africa (Farmstead, Western Cape)
*Languedoc France (Region, France)
*Languedoc-Roussillon France (Region, France)
*Languedoc Creek Mississippi (Stream)

Singer Inlet Canada (Inlet, Nunavut)
Singer Channel Solomon Islands (Marine Channel)
Singer Sayer Dam Montana (Dam)
Singer Peak Wyoming (Summit)
Singer Creek Oregon (Stream)
Singer Creek Park (Oregon)
Singer Drain Oregon (Canal)
Singer Mine Nevada (Mine)
Singer Wash Nevada (Stream)
Singer Creek California (Stream)
Singer Park California (Park)
Singer Lake Draw New Mexico (Valley)
Singer Lake New Mexico (Lake)
Singer Lake Texas (Reservoir)
Singer Forest Natural Heritage Area Arkansas (Park)
Singer Cemetery Kansas (Cemetery)
Singer Iron Bank Missouri (Mine)
Singer Louisiana (Populated Place)
Singer Oil Field Louisiana (Oilfield)
Singer Ditch Dam Indiana (Dam)
Singer Ditch Indiana (Canal)
Singer Lake Michigan (Lake)
Singer Run Kentucky (Stream)
Singer Run Ohio (Stream)
Singer Run Pennsylvania (Stream)
Singer Maryland (Populated Place)
Singer Woods Maryland (Populated Place)
Singer Bridge Georgia (Bridge)
Singer Pond Georgia (Lake)
Singer Island Florida (Island)

Halito!
Since announcing our website, we have already encountered quite a number of persons inquiring about individual family history research.
By sending an email to;
[email protected]
 , with the subject heading "research aid" and providing your contact email, you will then be put directly in touch with our Membership Ambassador's Division. There, information on research tips, service rates and payment plans for  fee-based private research assistance are available.
/